About me
My name is Tim, I am in my mid-30's and I live near Bristol, England.
I work in IT for Mendip Outdoor Pursuits an outdoor activty company based in the Mendip hills south of Bristol, England. .
I guess I have been thinking of travelling across America for about 20 years or so when I was given a large scale map of the US, I have always had it pinned up on my wall and spent hours staring at it looking for all the places you hear about in films and TV.
I have been planning this adventure since the summer 2010 when I met Mark Beaumont. He was doing a talk and presentation about his adventures cycling around the world and cycling the Americas. I am not looking to break any records - just to have some fun and see some of the world.
I am not really athletic or adventurous so this has been bit of a learning curve for me.
I have completed a few training rides to test me and my equipment and they have both been very positive. In the summer of 2011 I went with some friends from The Hook of Holland to Roscoff in Brittany (including a couple of trains). We did about 450 miles in 12 days. This trip was amazing and I am very keen on returning to Holland and France.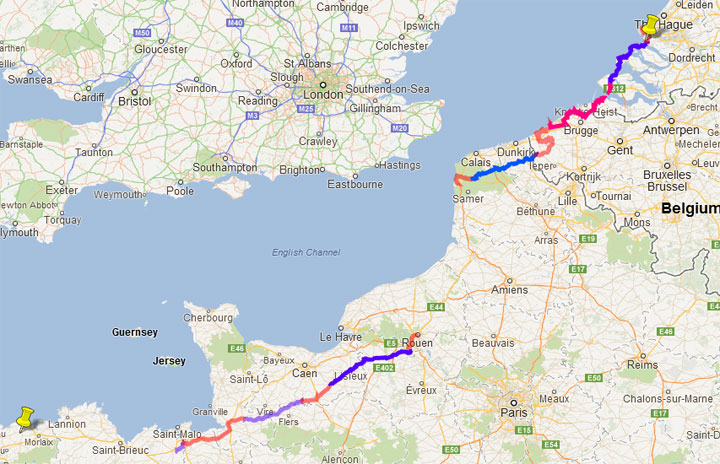 In the summer of 2012 I did a solo trip across England from Bristol to Maidstone and halfway back along the south coast. I completed about 370 miles in 6 days and was all set to return back to Bristol but was beaten by some unseasonal British weather.